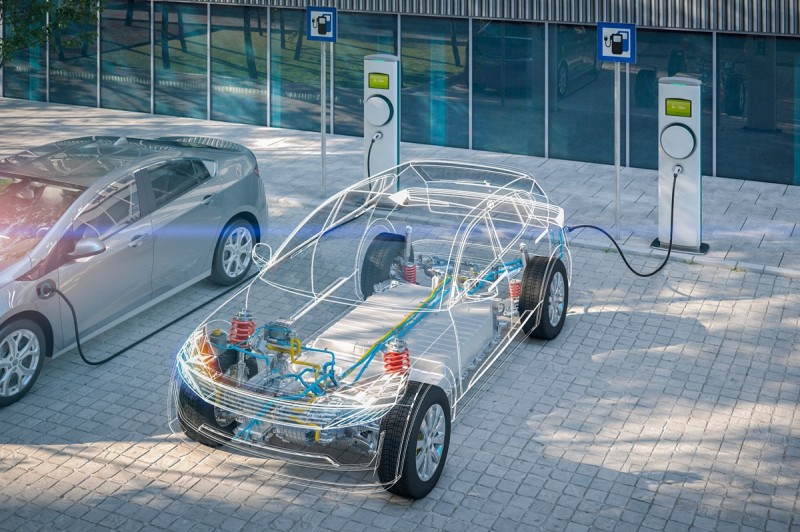 U svetu je primećen izrazit trend uvođenja električnih vozila (EV). Osim pionira u ovoj oblasti, sada se u to područje upuštaju i gotovo svi poznati proizvođači automobila. Šta to znači za kompozite? Većina električnih vozila na današnjem tržištu ima domet od 400 do 640 kilometara i "zabrinutost zbog dometa" je stvarna, pogotovo jer električne punionice nisu sveprisutne kao benzinske pumpe. Osim toga, baterije su veoma teške pa je potrebno dodati težinu kako bi se povećao domet. Zbog toga, upotreba kompozita može biti odlična prilika, zar ne?
Već smo videli ovu igru u vozilima sa motorima sa unutrašnjim sagorevanjem (ICE). Slogan "proizvođači automobila razvili su tehnologiju pogonskih agregata u najvećoj mogućoj meri, pa je sada potrebno osloniti se na lagane kompozite kako bi se poboljšala efikasnost goriva" raspršen je višebrzinskim menjačima, ubrizgavanjem goriva, deaktiviranjem cilindara i drugim lakšim alternativama. Slična priča se dešava i sa tehnologijom baterija. Blumberg (Bloomberg) predviđa da će se gustina energije baterija poboljšati za oko 50% do 2030. godine, a troškovi po kilovat-satu će se smanjiti za više od polovine u istom vremenskom periodu. Kako troškovi baterija padaju i gustina energije raste, proširenje asortimana vozila biće jednostavno kao dodavanje baterija.
Što se tiče kompozita, tržište automobila može se prebaciti sa ICE na EV vozila, ali još nema puta do usvajanja. Zarada u nizu materijala na platformi vozila i dalje se odnosi na postizanje proizvodnih faza i smanjenje troškova, isporučivanje vrednosti kroz konsolidaciju delova, višenamensku integraciju (poput ugrađenog ožičenja ili senzora) ili smanjenje troškova kapitala i alata.
Čini se da je jedna od vrhunskih primena kućišta baterija, posebno s obzirom na požarne, toplotne i električne zahteve koje kompoziti mogu zadovoljiti, posebno ako takva kućišta mogu iskoristiti anizotropno ponašanje kompozita kako bi osigurali torzionu krutost strukture karoserije. Kako električna vozila omogućavaju pomak ka autonomnoj budućnosti, sposobnost kompozita da ponude složenije oblike otvoriće dizajnerima mogućnosti da razlikuju platforme i poboljšaju korisničko iskustvo.
Zaključak? Što se pre naša industrija odmakne od gledanja na automobilske kompozite kao na jednostavan način za smanjenje mase, to bolje.
Napredak u materijalima za 3D štampanje već pokazuje gde i kako će se industrija razvijati. Tako npr. sa novim Markforged materijalom Onyx ESD (FDM tehnologija) ili Sinterit PA11 ESD materijalom (SLS tehnologija) možemo štampati komade za specifične namene kao što je npr. otpornost na gorenje, otpornost na visoke temperature, na udarce, hemikalije…
Več na https://blogs.ib-caddy.eu/2020/12/23/3d-stampanje-esd-sigurni-materijali/
Izvor: https://www.compositesworld.com/articles/what-is-the-role-of-composites-in-electric-vehicles