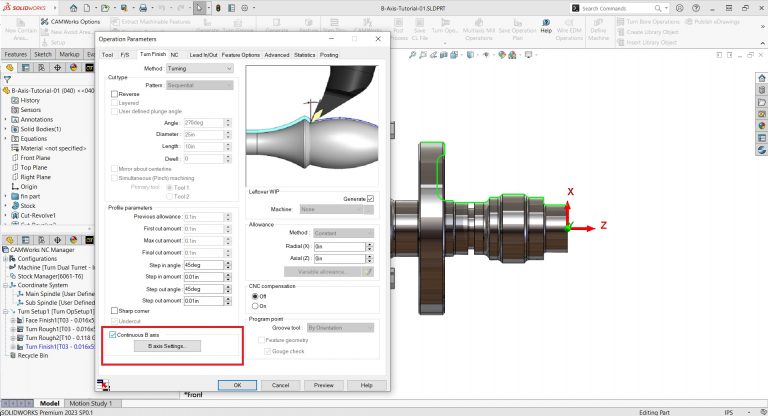 Continuous B Axis Turning ili simultano okretanje po B-osi omogućava Vam da proizvodite složene komade sa jednim alatom i jednom operacijom. Ova funkcija je već predstavljena u CAMWorks 2020 SP3 i dostupna je u svim CAMWorks verzijama, od ove verzije pa nadalje.
Simultano okretanje po B-osi je metoda obrade gde alat menja nagib prema obliku proizvoda i na taj način omogućava alatu da dođe do delova proizvoda do kojih se običnim struganjem jednim alatom nije moglo doći.
Uključujemo funkciju u kartici "Turn Finish", a ispod okvira za aktivaciju imamo i dugme za pristup podešavanjima.
PODEŠAVANJA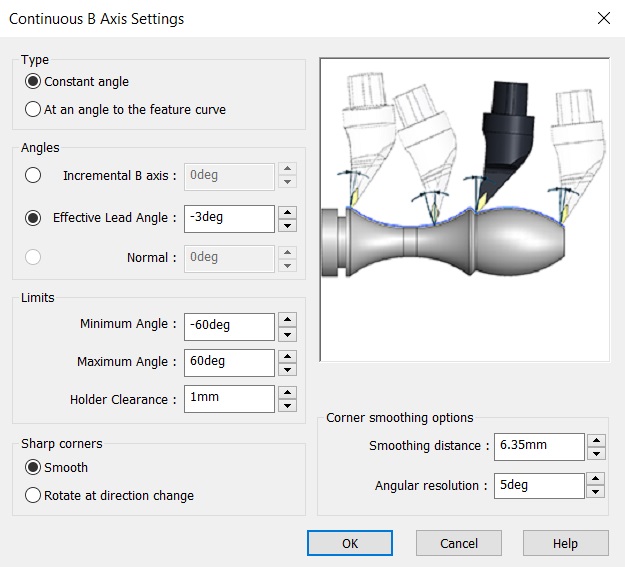 CONSTANT ANGLE – Kada je ova opcija omogućena, alat će zadržati ulazni ugao i promeniće ga samo kada ne dostigne navedeni deo. Ovo rezultira manjim brojem rotacija alat.
AT AN ANGLE TO THE FEATURE CURVE – Alat će zadržati ulazni ugao isti tokom obrade, što nam daje više rotacija alata.
MAX IN MIN ANGLE – Ova dva parametra ograničavaju nagib alata. ostavljamo ih u skladu sa ograničenjima alata.
HOLDER CLEARANCE – Ovom postavkom sprečavamo da se alat zalepi za radni predmet.
Želite više informacija?
Za dodatne informacije o CAMWorks proizvodima pišite nam na info@ib-caddy.com ili nas pozovite na +386 1 566 12 55.