Formlabs predstavlja Form Auto, Fleet Control i High Volume Resin System – tri nova proizvoda koji zajedno čine Formlabs Automation Ecosystem. Ova tri proizvoda omogućavaju visokoproduktivno 3D štampanje velikog obima, niže troškove po odštampanom komadu i poboljšavaju korisničko iskustvo pri upravljanju višestrukim desktop stereolitografskim (SLA) štampačima.
Form Auto
Form Auto je hardversko proširenje za štampače Form 3, Form 3B i Form 3+ koje automatski uklanja završene delove sa Build Platform 2 i pokreće sledeće štampanje bez intervencije operatera.
Form Auto se pričvršćuje na bilo koji Form 3/B/+ štampač i, koristeći patentiranu tehnologiju Quick-Release platforme Build Platform 2, uklanja delove sa štampača, odvaja ih od platforme i odlaže ih u posudu za sakupljanje pripremljenu za Form Wash. Platforma se automatski ponovo instalira i sledeća štampa je popunjena i spremna za rad. Proces oslobađanja se snima ugrađenom kamerom tako da korisnici mogu kontinuirano pratiti svoju proizvodnju bez obzira na to gde se nalaze.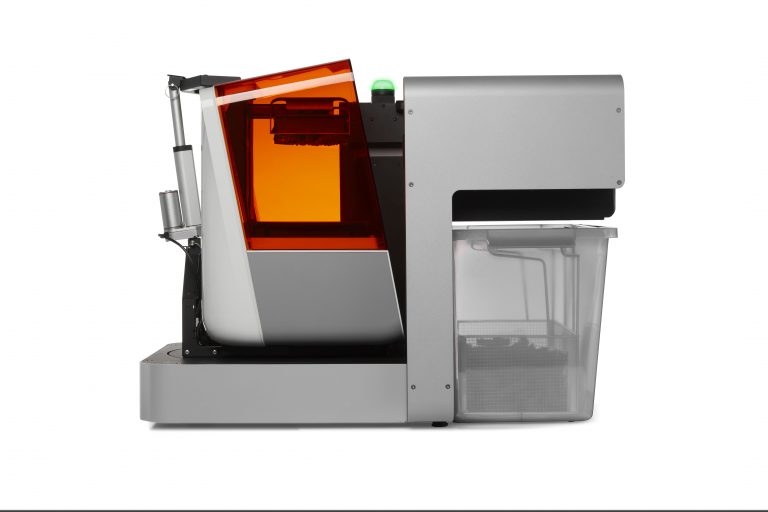 Slika 1: Nakon što se štampanje završi, hardverski dodatak Form Auto će podići narandžasti poklopac štampača, ukloniti delove sa Build Platform 2 i premestiti ih u posudu za sakupljanje
Fleet Control
Fleet Control je skup novodostupnih naprednih funkcija u PreForm i Dashboard, koje olakšavaju upravljanje više 3D štampača sa centralizovanim upravljanjem reda čekanja i automatsko dodeljivanje štampača. Sa proširenjem Fleet Control na kontrolnoj ploči, korisnici mogu da vide i uređuju red čekanja za grupu štampača i da dupliraju ili ponovo štampaju bez potrebe da ponovo otvaraju PreForm.
Pored smanjenja radnog vremena, automatsko dodeljivanje štampača Fleet Control takođe smanjuje habanje uređaja koje je rezultat nepotrebne česte zamene potrošnog materijala. Ranije, ručno kreirani red zadataka za štampanje značio je da, kakav god da je sledeći zadatak, dobija prvi dostupni štampač, što je često značilo da se potrošni materijal mora zameniti. Sa Fleet Control, red čekanja je optimizovan tako da se poslovi za štampanje na istom mediju stavljaju u red zajedno, a potrošni materijal se menja samo kada je to potrebno.
High Volume Resin System
High Volume Resin System povećava zapreminu smole na pet litara, pet puta veću od standardne veličine kertridža, omogućavajući korisnicima da štampaju više poslova i budu produktivni danima, bez promene kertridža. Zajedno sa pumpom za smolu, obezbeđuje da štampači nikada neće ostati bez materijala dok operateri nisu na poslu. Funkcije Fleet Control i Dashboard će upozoriti operatere kada postoji potreba za dopunom potrošnog materijala, tako da je uvek moguće pobrinuti se za zamenu smole pre nego što odete.
Za više štampača ili za pojedinačne uređaje, ovi proizvodi se mogu koristiti zajedno kao ekosistem za automatizaciju ili kao zasebni proizvodi za sopstveni specijalizovani proces rada. Form Auto, Fleet Control i High Volume Resin Sistem omogućavaju korisnicima da povećaju svoju produktivnost, smanje cenu po odštampanom komadu i minimiziraju probleme koji dolaze sa većom propusnošću kroz niz funkcija koje olakšavaju život korisnicima i dodatno poboljšavaju štampane proizvode.
Želite više informacija?
Za dodatne informacije o Formlabs proizvodima pišite nam na info@ib-caddy.com ili nas pozovite na +386 1 566 12 55.