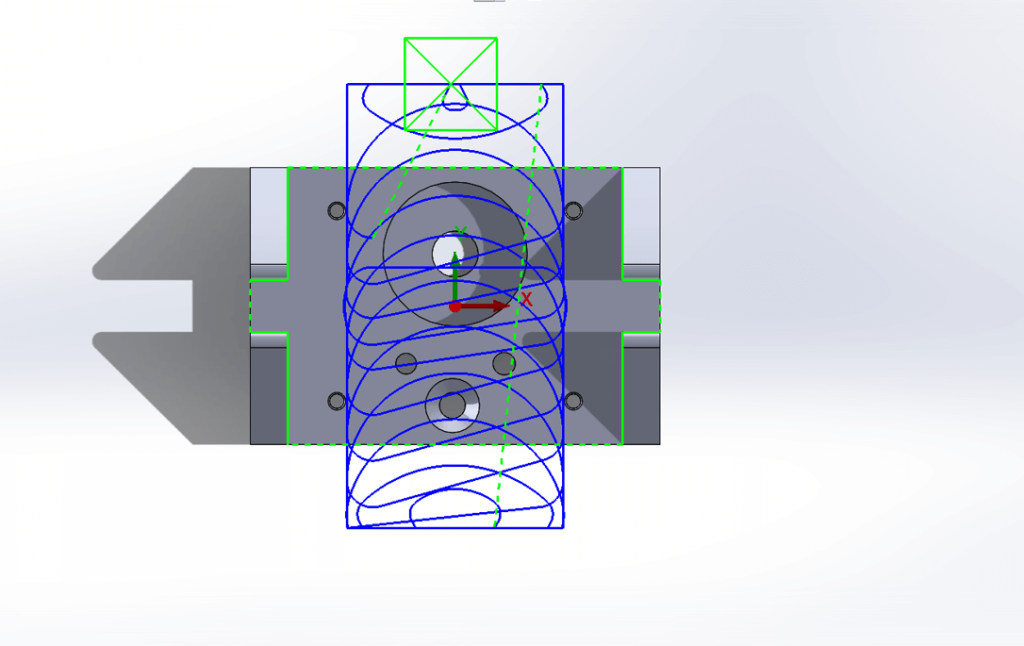 VoluMill je strategija obrade za grubo 2,5 i 3-osno glodanje, u kojoj tehnologija obezbeđuje idealnu putanju obrade, gde alat obrađuje radni komad sa što je moguće konstantnijom brzinom i pomakom i sa što većom površinom. U određenim slučajevima možemo koristiti celu dužinu alata što, pored brže obrade, produžava i vek trajanja alata.
VoluMill prednosti:
Stvara i održava idealne uslove za uklanjanje materijala,
Brža i lakša obrada,
Za mašine i alate prijatnija obrada.
Kako u CAMWorks izabrati VoluMill strategiju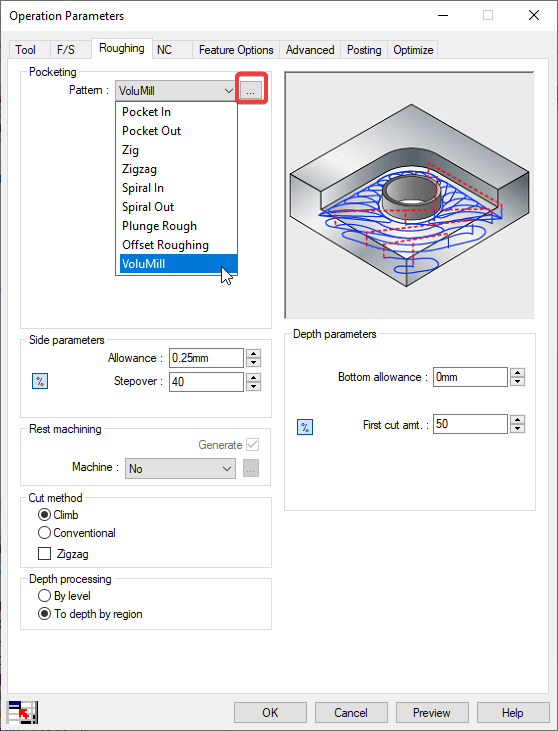 VoluMill strategiju biramo dvostrukim klikom na željenu grubu obradu, odnosno gde želimo da promenimo trenutnu strategiju u VoluMill strategiju. Na kartici "Roughing" pod "Pocketing" -> "Pattern" izaberemo VoluMill iz padajućeg menija. Možemo odmah da potvrdimo izbor klikom na "OK". Neka podešavanja možete postaviti i ručno. Izbor podešavanja u ovom prozoru je ograničen, dobijamo još nekoliko opcija ako kliknemo na tri tačke označene crvenom bojom na slici iznad. Otvara se "VoluMill Settings".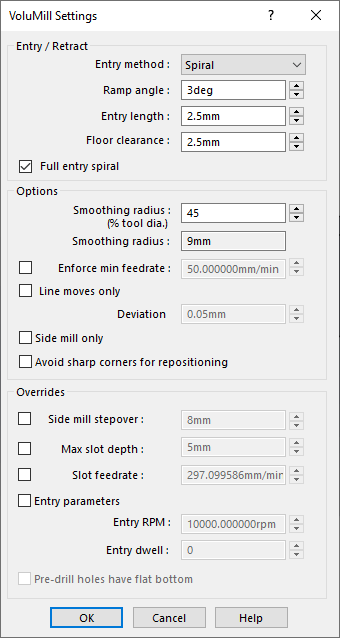 U "VoluMill Settings" možete podesiti način ulaza alata, ugao ulaska alata (samo ako je izabran metod "Spiral"), dužinu ulaza alata i "Floor clearence" koji se koristi za podešavanje pomeranja alata u brzom kretanju.
U segmentu "Options" imamo još jednu veoma važnu postavku, to je "Smoothing radius". Ovom postavkom izbegavamo oštra skretanja na putanji alata. U zavisnosti od prečnika alata i prema CAMWorks podacima, 45% je najoptimalnije podešavanje, ali se menja u zavisnosti od geometrije radnog komada. Što je manji % to je manji radijus putanje, što znači da naš alat može doći do užih oblasti ali, naravno, kao rezultat toga moramo da smanjimo naše pomake i skretanja "F/S".
U oblasti "Overrides" možete da prepišete već izabrana podešavanja. U mnogim slučajevima, podešavanja se mogu ostaviti podrazumevanim i strategija će raditi savršeno.
VoluMill Techology Expert
Ukoliko želimo da detaljnije prilagodimo tehnologiju obrade našim željama, to možemo učiniti pomoću VoluMill Techology Expert. Pristupamo mu u kartici "Feeds & Speeds", iz padajućeg menija moramo izabrati "Operation" koji nam omogućava da kliknemo na dugme "VoluMill Techology Expert".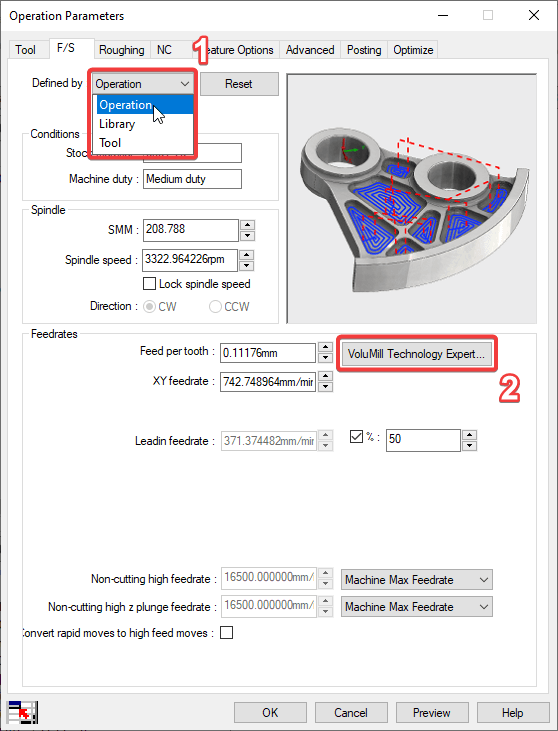 Klikom na dugme "VoluMill Technology Expert" dobijamo prozor ispod.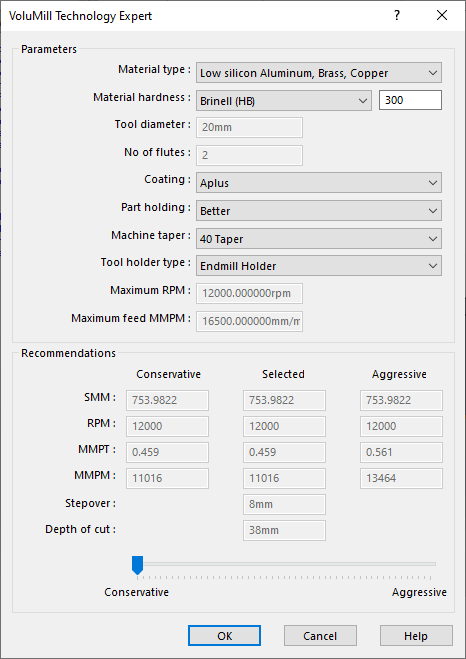 Ovde možemo izabrati vrstu i tvrdoću materijala, kao i koliko dobro je naš komad stegnut u mašini i kakav držač alata koristimo. Sivo obojeni parametri pokazuju koji su lakši, odabrani i agresivniji parametri obrade.
Jedno od zanimljivih podešavanja u Technology Expert je klizač na samom dnu pomoću kojeg možemo da biramo koliko će naša obrada biti "agresivna" ili "održiva". Razlike u ovim podešavanjima se mogu videti u primeru ispod.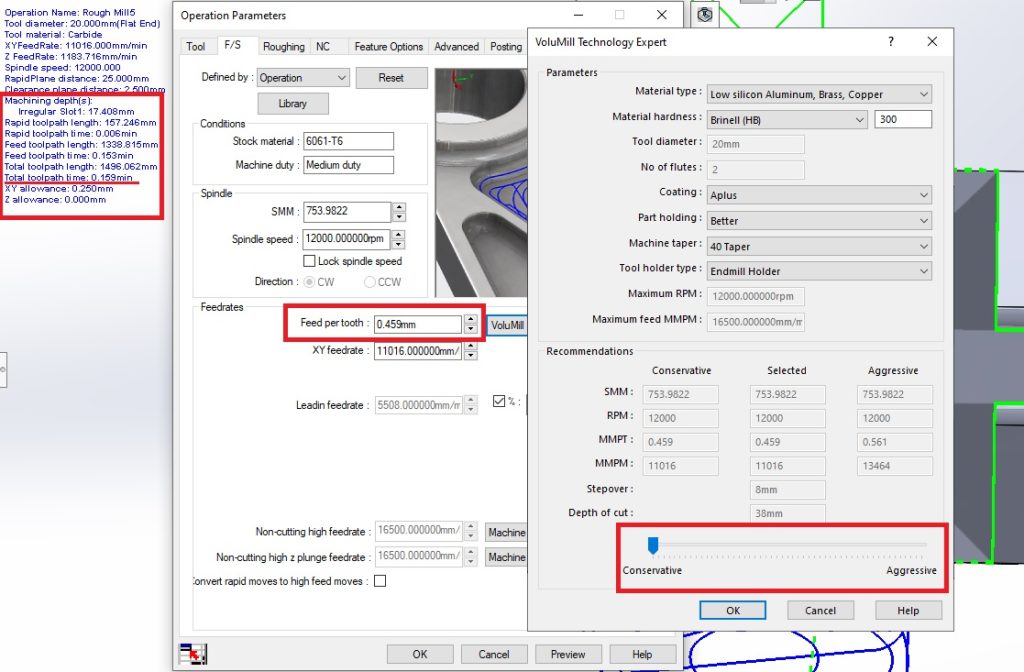 Iznad je "Conservative" režim, ispod je "Agressive" režim.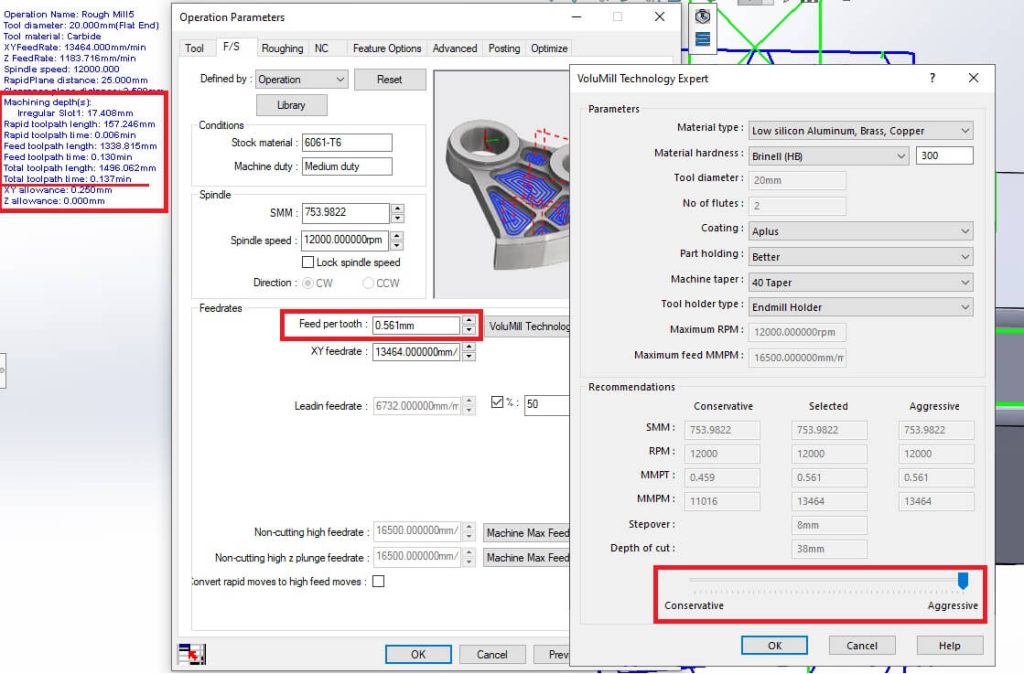 Kada izaberemo "Conservative" režim, procenjeno vreme izrade je 0,159 minuta, dok se za istu putanju alata u "Agressive" režimu vreme izrade smanjuje na 0,137 minuta. VoluMill pokazuje svoju brzinu još više u proizvodima kod kojih je uklanjanje materijala još veće.